COMPANY GROWTH
---
Gee Seng was established in 1995. From an empty, tiny premises with three staffs to a business holding 3 yards with 9420ᵐ², 4398 ᵐ², and 1375ᵐ² respectively with a stunning two-storey office in Kuala Lumpur, Malaysia.
---
In less than 10 years of operation, Gee Seng has diversified from a Spare Parts Dealer to one that also supplies Heavy-duty Trucks, Lorry Cranes and other Machineries with a variety of well-known brands.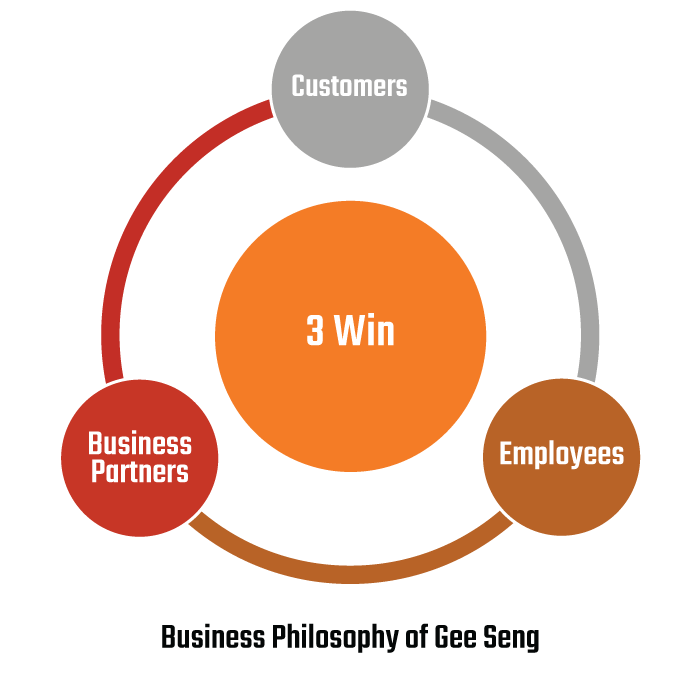 MISSION
Business has never been an island but a community of life, bearing the expectations and future of employees, customers and business partners alike.
Trustworthiness, as we firmly believe, is the tie that binds.
What can be more fulfilling than seeing employees dedicated to work without worries but joys. We believe in letting employees affirm their self-worth, achieve their life goals, and realise their longing for a better life. Happy employees create happy customers.
No mission is accomplished unless every truck user can complete the task comfortably and return home safely. We vow to provide our customers the greatest added value. Our thoughtfulness is our customers' faithfulness.
VISION
Empowering Trucks Mobility
JOINING GEE SENG
---
Being a part of the Gee Seng family, we want to see you succeed and achieve your dreams. We strive for greater heights in one's career and turning your dreams into reality.
We will guide you to becoming a better version of yourselves through intellectual enrichment, empathy and most importantly helping you to understand yourselves better.
Gee Seng provides the fairest environment for everyone in our family and we look forward for individuals with the right attitude and a strong desire to succeed to grow and thrive with us.